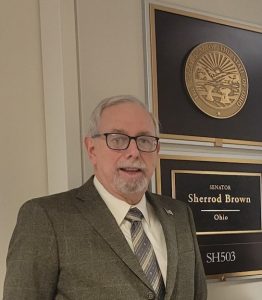 You either believe or you don't.  Mark me down as one who believes.  I believe in the fundamental promise of the United States, that all men are created equal (even when we fail miserably at that ideal), that we can govern ourselves (even when we elect less than competent leaders), and that we can structure a system to benefit most, if not all, of us.  And for that reason I work on legislative issues on both the federal and state level.  And that is why over 500 members of the National Association of Benefit and Insurance Professionals (NABIP) were in Washington DC last week.
This was our first completely in-person meeting since February 2020, the onset of COVID.  I wondered if citizens would again have full access to the House and Senate buildings post January 6, 2021.  I am happy to report that yes, I was able to wander around the halls of Congress.  I find the hours I spend in these buildings in serious discussions with our elected officials and/or their staffs, seeing the delegations of veterans, business representatives, and school children from around the country, or even just a casual encounter with a senator to be democracy affirming.
Our meetings with our elected representatives and their staffs are designed to reinforce our main message that health insurance is the way most Americans access and pay for health care.  We remind them that according to the 2020 US Census, 54.4% of the United States population is covered by employer sponsored group health insurance.  We want to make group insurance work smoothly and effectively.  With 10,000 Americans turning 65 every single day, our other main focus is to make Medicare work for our clients, their constituents.  We can get into the various bills and specifics, but the basics, access and payment for care, have remained the same for years.
Our timing was less than optimal this year as the Democratic members of the House of Representatives were on a three day policy retreat last week.  I was disappointed that we were unable to meet with Shontel Brown (D-OH) who represents much of Greater Cleveland.  I was fortunate to be included in a meeting with Troy Balderson (R-OH) of South Central Ohio.  Mr. Balderson and his legislative assistant, Megan Porter, were fully engaged in our conversation and well-versed on our issues.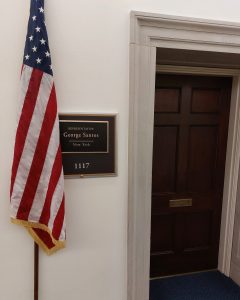 There wasn't anyone waiting to talk to this Congressman.
I also led a delegation to Senator Sherrod Brown's office.  Senator Brown (D-OH) was meeting with several Cuyahoga County mayors so our group met with Francis Goins, a legislative aide who graduated from Shaker Heights.  Mr. Goins extended our meeting to 45 minutes.  He took notes and asked great questions.  Senator Brown has worked to resolve the Observation Trap and has sponsored legislation in previous sessions.  We are hoping the Senator will reintroduce legislation specifically addressing this issue.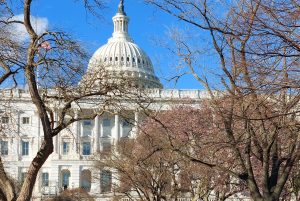 Mr. Smith Goes To Washington premiered in 1939, a time when a Senate filibuster actually took effort and it was shocking to see a film that depicted both the American ideal and the reality of political corruption.  In 2023 the corruption is understood and the ideal is sometimes forgotten or ignored.  My annual participation in our organization's Capitol Conference is confirmation that we can still achieve our ideals.
Dave
Pictures:
Mr. Cunix Goes To Washington – David L Cunix
The Loneliest Place in DC – David L Cunix
Winter in DC – David L Cunix